The Hawaii portal has been offering a virtual records ordering service since 2002. Since the inception of the Real ID Act, the demand for birth and marriage records has skyrocketed. Since 2012, the VRO office has been seeing a 16% increase in the amount of orders processed. With over 300,000 certificates issued annually, combined with a 38% reduction in work force due to retirement and budget cuts, the DOH has struggled to keep up with order fulfillment due to a severe lack of staff resources.  As a result - mail and online orders were not being filled within the Department's 2-week service level agreement, and long lines of requestors at the DOH offices became the norm - resulting in wait times of up to an hour. Mail and online orders had an average delay of 4-6 weeks. One of the critical areas of concern was that VRO staff tended to not have information regarding the order available - so when a requestor called to inquire about their order status, they were often not given a response, resulting in stress and frustration from both the public and the VRO staff. At the same time, the existing process flow of the old system is no longer adequate with the growing demand for a quicker service.
As part of the OIMT business process re-engineering (BPR), HIC conducted a two-month study to document the current VRO internal work processes. HIC also utilized in-person surveys to get more useful data from the general public who were waiting in line. The information gathered in the survey supported the premise that the development of a Vital Records Ordering and Tracking Systems (VROTS) would aid dramatically in both improving the overall customer experience and streamlining back office operations.
With promising survey results, HIC began development on the new system and work was completed in October 2014. Designed to be a central depository of all vital records orders, it now includes all over the counter, mail-in and online orders in a single location. The new online ordering and tracking system offers a much improved user experience for both the public and DOH staff. Furthermore, any government agency who currently requires paper certificates from the individual, can adopt to receive electronic notices. Each order has a unique tracking number for tracking progress, staff and public have the ability to check real-time status updates for orders placed online, and search results have been improved.
The application will be live to the public in January 2015. Future enhancements will include electronic delivery and verification of certificates as well as expedited services, which is arguably the most highly requested service we receive from year to year. We anticipate the new system will lead to happier customers and happier staff and we look forward to its official release!
Before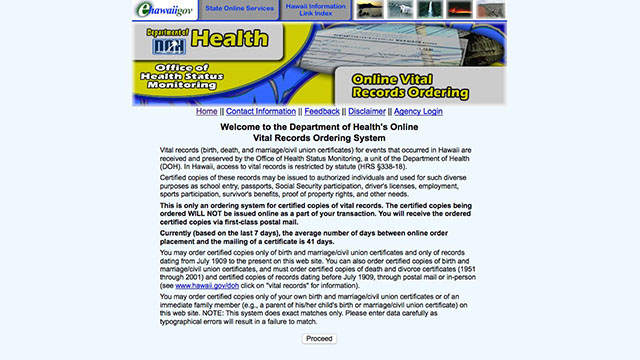 After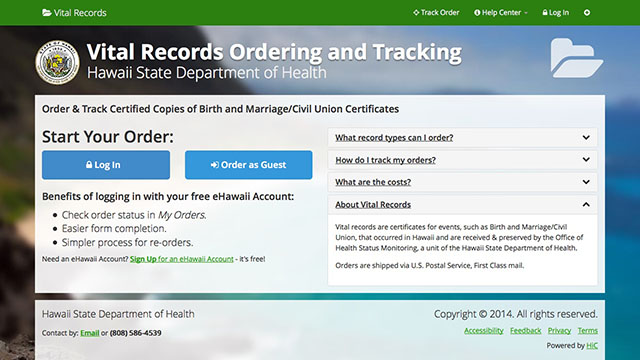 Attachments:

VRBefore.jpg
(image/jpeg)

vitrec.jpg
(image/jpeg)

section-end.jpg
(image/jpeg)

vitrec-before.jpg
(image/jpeg)

vitrec-after.jpg
(image/jpeg)